Dressed in a cute sundress, the wrong shoes, and way too much jewelry; I dragged my husband this past Saturday to the Colorado Renaissance Festival.
I haven't even left my backyard and my feet hurt already
I do this to him a lot. Once I made him buy me a $90 dragon puppet because I'm the worst. And truth be told, even though I'm the one insisting that we go to the festival, I'm not sure that I like it all that much.
And I'm not quite sure why I don't like it as it seems like it should speak to me on a spiritual level: multiple alcohol options, pretty dresses, goats, and special attention when I tip ("Huzzah to the tipper!")
Maybe it's because I always wear the wrong shoes and usually twist my ankle. Or maybe it's because I always manage to pick the hottest weekend to go. But these are reasons to not like a lot of things, so I'm not quite sure why I always leave slightly disappointed.
But look; I am not here to yuck anyone's yum. In fact, I'm quite jealous of the fair-goers living heir best post-plague life. I watch in envy as elven costumed "playtrons" do their thing.
A couple of "Mundanes."
And there's a name for people like me: Mundane. No, seriously; according to Urban Dictionary, that's the slang for people who attend renaissance festivals in non-festival garb. Mundanes. Ouch; but fair.
Or should I say "faire." Or should I say "festival?" Honestly, both terms are used depending on the city, so I will probably oscillate between both without reason as I am prone to do.
A Little Bit of History:
Amidst the "We accept Ye Old Credit/Debit cards" signs, the frozen margaritas, and the yakitori chicken kebabs of the modern renaissance festival, it's hard to imagine that the first U.S. renaissance fair was actually a historical teaching festival for children.
In 1963, school teacher Phyllis Patterson held a small renaissance fair in her backyard for her students. Her goal was to "trick" them into learning. Ugh. Don't you hate it when people try to trick you into learning?
But her students liked it and later that year Phillis and her husband decided to put a bigger version together as a fundraiser. They called it the "Renassaince Pleasure Faire."
The word "pleasure" gives me pause. And sort of grosses me out. It's a word that a creepy 1970's professor would use to woo an innocent coed: "Why don't you swing by my bungalow for some chardonnay and pleasure?"
But the first renaissance fair was not a sex fair (we'll talk about that later). The first renaissance fair was meant to be a learning festival for both children and adults; and the displays, reenactments and tutorials were to be as historically accurate as possible. In fact, the fair was designed by The Living History Center to resemble an actual spring market fair of the period. All actors, vendors, musicians, etc. were expected to complete a course in period accents, costuming and the like.
Not Mundane.
The fair was a success and pretty soon after that, renaissance fairs/festivals started popping up all over the country. Eventually, the fairs started to lose a lot of the strict historical accuracy and began to focus more on entertainment and making that ye olde chedda'.
Most festivals are based around the reign of Queen Elizabeth I, but a few (like the Colorado Renaissance Festival) take place during the reign of Henry VIII. History nerds out there will most likely pick up on the fact that these fairs are actually closer to the medieval time period...but I guess "renaissance" just had a better ring to it than Dark Age Festival. Although, Dark Age Festival sounds pretty fucking metal to me.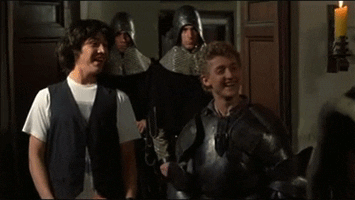 Now for the Sexy Time:
Also different from the first fair is the amount of sex that is "allegedly" going on behind the scenes. According to this
Vice article
, a lot of threads on Reddit...and just what I've always heard; they have put the "pleasure" back into Renaissance Pleasure Festival. Granted, Vice and Reddit aren't the most credible of sources...but come on; we've all heard about the "after parties" at the festival. It's "allegedly" quite the bacchanal; unless everyone is lying to my Mundane ass.
Hey, man. Who am I to judge? Let your Fair Freak Flag Fly and get it, Wench.
Most importantly, whether you are there for the turkey legs or the "good time" (or both) just remember to bring sunscreen. It gets hot out there.